Mahjongg

Playing the Game

The object of the game is to clear to table of all the Mahjongg tiles. To do this, simply click on matching tiles. A tile is only available though, if no tile is located above it, and there is no tile to the immediate left or right or the tile.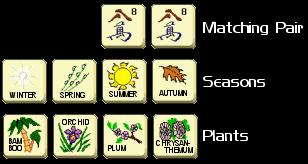 There are two special tile groupings in which the tiles do not match visually. They are the Seasons (Summer, Autumn, Winter, Spring), and Plants (Bamboo, Orchid, Plum, Mum). You can match these in anyway with the group. For example, Summer may match with Autumn, or Winter, or Spring.

The game ends when no more tiles remain. All boards created are solvable.

Undo provides an infinite level of undos, and Hint will highlight one possible match (though actually playing the match may be detrimental).